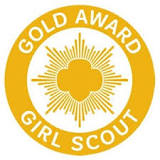 This page is for Rachel's Gold Award for acceptance for all. It is intended to allow the opportunity to be involved in theater for people on the autism spectrum and other special needs. Rachel is on the autism spectrum as is her father who has high functioning autism, as are her 2 brothers. Rachel was involved in theater and the improv team at her High School. Rachel wanted to get her gold award and she was interested in giving people who are overlooked or not a part of events to be a part of the action and be involved. Being on the autism spectrum, it is easy to feel ignored or not really accepted or involved. Rachel gained confidence and felt more a part of her high school, and made friends and connections via her involvement in theater and the local improv team.
Rachel decided to do her gold award by allowing autistic young adults and adults to be involved in an improv theater session. She partnered with her improv coach Kopy who runs the local high school improv events and competitions between high schools. She also had help from her dad, David Berkowitz, for the IT and web-related parts of what was accomplished as well as videography. She had help from her mom for advice, guidance, support and getting the location to do the event, which took a ton of effort and time in itself.
She had help with the improv event itself from 3 other experienced young adults who are involved in the local improv teams, Chase, Song and Mariah, and her brother, Adam who has a theater, staging, and improv experience as well.
Improvisation, or improv, is a form of live theatre in which the plot, characters and dialogue of a game, scene or story are made up in the moment. Often improvisers will take a suggestion from the audience, or draw on some other source of inspiration to get started.(According to the American council on theater.
Autism, or autism spectrum disorder (ASD), refers to a broad range of conditions characterized by challenges with social skills, repetitive behaviors, speech and nonverbal communication.

Please see the video of the event that Rachel set up, ran, and partnered to accomplish:
Rachel intends to continue to do these types of events for autism annually. Anyone else who wants to run a similar event and needs our guidance, please email us, davidb@technewszone.com for more information. This page is set up as well for those folks or groups who want to have an event or session for folks on the autism spectrum. This website has been on the web since 1/11/11 and we receive 10,000 to 100,000 monthly views. The video is on youtube, please share and subscribe as well.
Here is a link the video to share the link and subscribe to the channel too.
For my information on Kopy and the local improv/Jester's team see:–>