Company aims to put a 3D printer in every office, classroom, and did showcase Mcor ARKe at CES 2016
LAS VEGAS, January 6, 2015 – Mcor, the leader in industrial full-color 3D printing, today launched Mcor ARKe, the world's first, full-color, desktop 3D printer. With Mcor ARKe, Mcor now offers their industrial quality full color 3D printing on the desktop. The premium 3D printer is also low cost, reliable and safe, enabling 3D printing to jump the chasm to a much broader range of creative professionals and truly facilitating creative learning like no other 3D printer has to date. CES 2016 attendees can see Mcor ARKe in action today through Saturday, January 9 in the 3D Printing TechZone, Sands Expo Booth 72916.
Developed with the vision of making full color 3D printing more accessible to a latent creative market, Mcor ARKe achieves this goal in several ways:
• Full, photorealistic color: With a DPI of 4800×2400, Mcor ARKe brings high resolution color to the desktop transforming desktop 3D printing from a monochromatic age to a world of full color
• Cost-effective: using Mcor's unique Selective Deposition Lamination technology, Mcor ARKe makes low cost, professional class 3D printing accessible
• Safe and eco-friendly: No harmful particle emissions, or toxic chemicals are used during printing, making Mcor ARKe a safe addition to any classroom or office. Further, green processes and recyclable materials are used in operation
• Customizable and compact: Mcor ARKe allows users to choose from a selection of covers to suit their unique style
• Reliable and easy-to-use: High-resolution touchscreen and LED progress task bar makes viewing status of a build possible from anywhere in a classroom or studio
"Our mission is to put a 3D printer in every office, classroom, and eventually every home, and Mcor ARKe is a huge step in that direction," said Dr. Conor MacCormack, co-founder and CEO of Mcor Technologies. "The launch of Mcor ARKe is a defining moment for Mcor and the 3D printing industry, much like the iPhone was for Apple and the 747 was for Boeing. I believe that this is a disruptive step that will transform this industry stimulating widespread adoption of 3D printing particularly in education and among creative professional. Further, we have already received over 2,500 pre-orders for Mcor ARKe and anticipate unrivalled demand in 2016."
Mcor ARKe has a launch price of $5,995 USD MSRP for the CES event and is available Q2 2016. For more information on Mcor ARKe, please visit [www.mcortechnologies.com] or stop by Booth 72916 at CES.
A sample of their output–>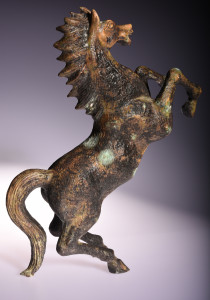 ###
About Mcor
Mcor Technologies Ltd is an innovative manufacturer of the world's most affordable, full-color premium 3D printers. Established in 2005 with a talented team of specialists in the area of 3D printing hardware and software, Mcor's vision is to make 3D printing more accessible to everyone. The company operates internationally from offices in Ireland, the UK, America and APAC. www.mcortechnologies.com.
Our Commentary:
I had the opportunity to see samples printer on MCOR's printers and I was quite impressed. They are made from paper, and are printed in full color so the objects look close to being real. Despire being made of paper, the printed items feel quite solid. I am rather amazed by my first exposure to their amazing 3d printer.
David #makers4autism