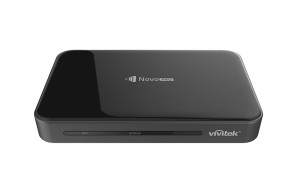 We recently had the opportunity to test and review the Vivetek Novopro Presentation and Collaboration device.
According to Vivitek, it is:
NovoPRO is a wireless presentation and collaboration system designed to support highly interactive and collaborative meetings or classroom learning activities. Meeting participants, instructors, teachers and students can interact and share digital content via their PCs, tablets, Chromebooks and smartphones — a true BYOD device.
NovoPRO supports true screen mirroring from iOS and Android devices. It features screen preview/moderator control, 4-to-1 projection, video streaming, instant response system (IRS), file sharing, and access to cloud-based resources. Built-in, whiteboard-interactive features encourage meeting or classroom participation, and all Novo's can be managed remotely over the network. The built-in Ethernet port allows for dual-network connection to accommodate Corporate/Guest or Student/Faculty networks.
The NovoPRO can also be optionally equipped with the Launcher; a USB-connected device with software preloaded that, with the insertion and click of the Launcher, displays the computer screen. A true plug-n-play-to-display solution.
Request for demonstration. within your facility by a Novo Specialist. If you are a corporation, university or school region/district looking to standardize your BYOD infrastructure, click the link below:
– See more at: http://www.vivitekusa.com/productdetail.php?product_id=151#sthash.CGO0C3BF.dpuf
We tested our demo unit from a few devices and in few ways. I used an Android Laptop and an Ipad to do a presentation and wirelessly sent it to an older DLP television. After a bit of set up and a brief learning curve I was able to get it to allow me to show a presentation from the 2 tablets on the tv. I also tried streaming video from the TV and the 2 tablets as well. As long as the presentation software recognized the codec of the video then it worked rather well. It did not play all the videos we tried to stream but it did work well most of the time. The device would be great for educational and business applications.
Here is an image of the devices ports and connections: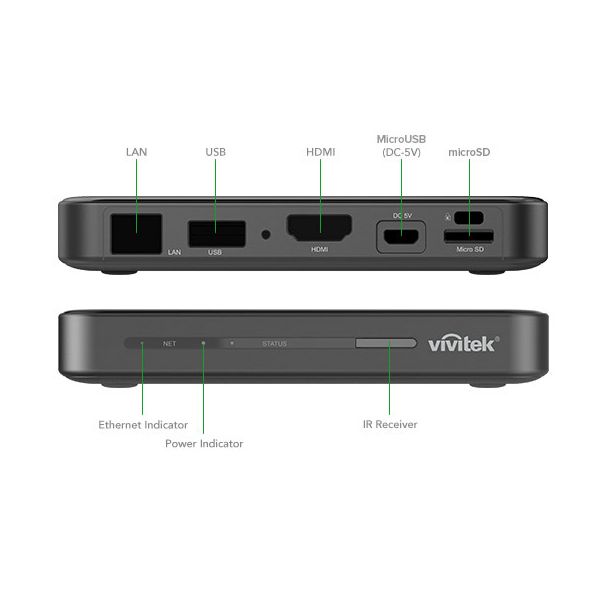 In summary it is a devices which is:
A Pro Presentation and Collaboration System Output: HDMI (1080p, 4K 60FPS) Integrated wired network capability Works with LauncherPro Connectivity: Up to 64 users can simultaneously connect; Up to 4 users can simultaneously present on the screen Compatability: Windows, Mac, ChromeBook, iOS, Android Features: Voting, Annotation, Whiteboard, Wireless hot-spot for up to 8 devices, Capture screenshot, Works with Dropbox and Google Drive. It would fit well in business and education as well as religious environments!
We were also sent the Vivitek Launcher tool which allows several users to collaborate and share video together during an education or business or other event. We tested it with a number of devices and it worked well and allow sharing of video and presentations between multiple users. It is a nice and productive business and educational tool.
The NovoPRO's built-in Ethernet port and Wi-Fi module allow for standard dual network support so that both a wired and wireless connection can be accomplished to accommodate, for example, both guest and corporate networks. To make operation simple, the optional Launcher buttons allow for instantaneous screen sharing though this USB connected device. In a collaborative setting, the Launcher also has placement buttons for the four screen quadrants to provide an easy selection of multiple display devices. Lastly, the Launcher has the software preloaded, which makes it truly plug-n-plug to PCs or Macs. (No software installation is required.)
We found both devices to be rather easy to use, and they do what they are supposed to do and work rather well.
We liked the design of the devices, the ease of use, how well built they are, as well as their small size. They are really small and ought to fit in your bag to take with you and use on the go. The only improvement is there needs to be support for video types and codecs.
We appreciated the opportunity to test and reviews these fine Vivitek Products.