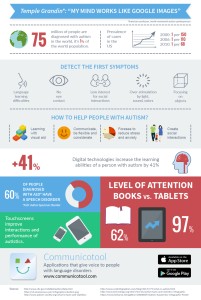 Communicotool-A New Communication tool for non-verbal autistic folks!
Autistic daughter inspires communication app for non‐verbal people After seeing non‐verbal 8‐year‐old Reinnah take her tablet everywhere she went, her father created CommunicoTool to help her talk with him. Now updated to version 2, it launches in the US to help non‐verbal children acquire, develop and use language skills. San Francisco, CA – March 11 – ​One in 68 children has Autism Spectrum Disorder, and roughly 25% of them cannot speak. These and non‐verbal children with other developmental disorders must rely on visuals, often flash cards or drawings, to communicate. Tablet app CommunicoTool 2 makes it easy for a non‐verbal child to find their words. With specialized visual and audio tools wrapped into one, these children have a library of pictures for expressing themselves, instructions for daily tasks set in simple sequences of images, and can have the entire experience customized to their particular needs. "Like a wheelchair for someone who can't walk, CommunicoTool 2 lets children overcome their speech challenges," says Frédéric Guibet, CommunicoTool's founder and CEO. "Except that the app goes further, over time helping them to learn the words through repetition, and develop their language skills." Guibet himself has a daughter who can't speak as a result of her autism. He got the idea for the company in 2012 after noticing she would rarely go anywhere without her tablet."My Reinnah, like many other autistic kids, thinks in a more visual manner than verbal," he continues. "The tablet's big, colorful screen was clearly the key to talking with her. Creating this app was the best way to get a direct line of communication with my daughter. Now I want to help other families live the same experience." The first version of the app launched in France with two main features: a library of images to help people pronounce words and construct sentences, and a "Doloris module" to help communicate pain with a picture of a body to point to, and a scale to help show how badly it hurts. Its second version, debuted today at SXSW, adds a "Sequence" features that lets a caretaker arrange sequences that explain how to do something, like brush your teeth. This includes a timer, for things like the brushing itself, that need to be done for a set amount of time—a difficult concept to communicate without words. The whole experience can be personalized. Julie Laurent for example, a CommunicoTool employee with two autistic daughters of her own, created a to‐do list to help her daughter know what to do during library time at school. Her tablet shows a picture Julie uploaded of her daughter lining up with her classmates, then a picture of the library, then one of her listening to a story, then one of her taking a book, and finally one of her checking out a book with the librarian. With this routine, she learns what is expected of her and becomes more independent. Coming soon are the ability to build more complex sentences, and synchronization between devices to keep customization consistent between parents, teachers, specialists and other caregivers. The app is available for tablets running iOS or Android. The app is free for the first month, then costs $2.99 per month or $59.99 for life. For more information, visit communicotool.com or contact Courtney Sims at courtney@oxygen‐pr.com or 1 (951) 565‐6016. ### About CommunicoTool Created in late 2012 by Frédéric Guibet, CommunicoTool is a French startup specialized in communication applications, originally under the CTEXDEV masthead. Frédéric, who has an autistic daughter, quickly realized that the tablet was to his child what a wheelchair is to someone affected by motor disabilities. He decided to create communication apps for tablets aimed at people, like his daughter, who faced challenges from being non-verbal!

Click for more info–>Communicotool!