MICROLAB ANNOUNCES ULTIMATE HD AUDIO GIFT FOR FATHER'S DAY MAN CAVES – FC60BT WIRELESS BLUETOOTH/NFC 2.1 SUBWOOFER SPEAKER SYSTEM –         Microlab Patented HC2D Technology (High Clarity Close Distance) for Crystal Clear Music –         Powerful Integrated Subwoofer with 2 See-Through Enclosure-less Stereo Satellite Speakers for no Harmonic Distortions or Vibrations –         360 Degree Remote with Bluetooth/NFC Settings – Easy Set-up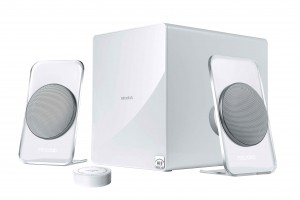 Microlab is a CES Innovations Award Winner April 10, 2014, ShenZhen, China – Microlab www.microlab.com, a leading audio manufacturer of portable and Hi-Fi speaker systems for the digital home and office and a CES 2012 Innovations Award Winner, announced today the FC60BT HD audio wireless Bluetooth/NFC 2.1 Subwoofer Speaker System, featuring Microlab's patented HC2D Technology, a powerful subwoofer, and 2 advanced stereo satellite SQ speakers without enclosures for crystal clear sound without harmonic distortions or vibrations that often happen when speakers are enclosed.    HC2D Technology for Supreme Immersive Sound & Modern White Lycosa Mirrored Acrylic Styling  The perfect Father's Day gift for the ultimate fully immersive "man cave" audio listening experience, the FC60BT brings audio perfection to dad with Microlab's innovative patented HC2D (High Clarity Close Distance) technology that provides an impeccable 105 Watt crystal clear output, with EQ parameter for automatically balanced sound, a 360 degree remote control that works from any angle in the room, modern white acrylic styling, and quick and easy set-up.   360 Degree Remote for Access from Any Angle in the Room — Lying on the Couch, at a Desk, or Anywhere Else The FC60BT features a modern design which fits into any environment, with sexy clear see-through speakers and a luxurious Lycosa mirrored white acrylic subwoofer with a matching powerful whitecircular remote.  The system connects to Bluetooth, NFC, and optical devices, including smartphones, tablets, HDTVs, CD, DVD, and Blu-ray players, and PCs and Laptops through its convenient 360 degree RF remote control that works from any angle in the room, so dad can access the system while relaxing on the couch, at his pool table, desk, bar or from anywhere else in his man cave, office or studio.  The remote quickly controls on/off, input choice (Bluetooth, NFC, or optical), volume and bass level, pause/stop, and track selection.  FC60BT Features:
2.1 subwoofer system with 2 see-through stereo satellite speakers.
Patented HC2D Technology (High Clarity Close Distance) for crystal clear sound with full resolution range when listening at close or from a far distance.
Bluetooth 4.0 wireless technology connects to smartphones and tablets.
NFC (Near Field Communication) function quickly connects to Android, Windows and Blackberry devices without pairing — just tap the device on the remote control's NFC logo for instant music.
Powerful integrated 8-inch bass subwoofer with built-in amplifier.
2 stereo enclosure-less satellite SQ speakers for no harmonic distortions or vibrations.
Digital signal processor for clear HD audio sound.
Connects to most media players with included stereo 3.5mm jack.
360 degree RF remote control for Bluetooth, NFC, track, input, volume, and bass controls that works from any angle in the room.
1-inch tweeter and 5-inch midrange set up in tandem for perfectly clear sound.
EQ parameter for automatically balanced sound.
Quick and easy plug n' play set up in a few minutes.
Amplifier output: 105 Watt RMS.
Tweeter:  6 Ohm, Midrange:  8 Ohm.
Availability & Pricing  Priced at $449 SRP, the Microlab FC60BT will be available in May distributed in the U.S. by Ma Labs.  For information, contact:  email microlab@microlab.com.cn,website: www.microlab.com.  The FC60BT includes subwoofer, two satellite speakers, remote control, 3.5mm stereo – 2RCA cable, optical S/PDIF cable, and user manual.  For more information, see www.microlab.com.  About Microlab  Since its founding in 1998, Microlab has specialized in designing, manufacturing and marketing a full range of speaker products, from battery-powered portable speakers to high-fidelity home audio systems.  Microlab prides itself in providing high quality sound at affordable prices.  This is accomplished by their continued focus on acoustic research, with an R & D team experienced in driver and electronics design and an industrial design team skilled at creating trendy, yet functional designs. Microlab's 320,000 square foot (100,000 square meters) production facility is state-of-the-art, capable of producing over 4 million units a year.  To ensure quality and performance of their products, Microlab makes all critical parts (drivers, plastic parts, etc.) in house.  Microlab has over 1,500 employees and is based in Shenzhen, China, a city of 15 million people, a 30 minute train ride from Hong Kong.  The company has established an extensive sales network in China and around the world.  It has distributors in around 50 countries and generates over $60 Million in revenue each year.  Microlab has become the top brand in multimedia speakers in many markets, a testimony to the quality and performance of their products.