We are going to be reviewing a tiny but interesting drone from Mota Soon.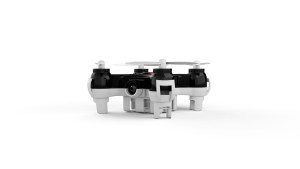 MOTA JETJAT™ Nano-C
The world's smallest and lightest camera drone is merely a pint-sized 32 x 32 x 22 mm. Travel sized and 1/10 the size of an actual camera, the Nano-C delivers aerial camera capabilities so you can get those hard-to-capture shots. Video recording is made simple with an easily accessible SD-Card but the fun doesn't stop there! Agile and nimble, the Nano-C can perform flips and stunts only daredevils dare to attempt. For a little drone that merely weighs .6 oz, the Nano-C epitomizes stable flight, video capturing and coins the term 'pocket drone'. Tiny fun for the little ones, agile and powerful for hobbyists, and video capabilities for growing professionals; fly indoors and out without worry.
n  The world's smallest and lightest video drone is merely gumball sized!
n  Built-in camera and micro SD card so you can record everything but your favorite TV series.
n  WOW your neighbors – This pocket sized design has a flight distance of up to 80 ft, LED lights for night flight and flying high over houses!
n   With the latest 6-axis Gyro hardware and videogame style 4-Channel Controller, experience amazing flight control.
n  Play with your pets around the house or shoo away flies before dinner; Nano-C does it all!
n  Upgraded high-capacity battery gives you extended flight time with shorter charge time. USB charging cable included has a light to help you identify charge status.
We are looking forward to checking out the wee beastie.
Please check out their website for more info JETJAT!