Summary:
My first impression of the Nokia Lumia 1020 was very positive. I liked how it felt in the hand especially compared to most of the competitive devices which are more flat and square. I liked the rounded corners.
In addition, I liked the selection of available colors. I was testing the white one, which is quite nice, but personally if I adopted one I would prefer yellow or blue, and the more mat surface.
From my perception and researching it's sister products on the internet and at–> http://www.microsoft.com/en-us/mobile/phones/all/?catalog_mode=grid&dcmpid=bmc-src-google.Brand I found that it has the same 4,5 inch AMOLED Puremotion HD+ displaythe Lumia 925, and although the body looks a lot like the Nokia Lumia 920, it weighs only 152 grams – despite the big camera sensor attached to it.
I had tested a few other entry level products such as the Nokia 635 and 530 which were decent products for their price point and feature set, but I was really impressed by the Nokia 1020. I have always used mostly Android  devices and have tested  Blackberry and Apple products, but I was  actually surprised at how nice Windows 8.1 was running on this Smartphone.
In regards to its specifications it  is 129 x 71,4 x 10,9 mm and 14,5 mm at the thickest part which would be the lens.  In addition it has a 1,5Ghz dual core processor and 2GB of internal (RAM) memory. Like the Nokia Lumia 920 it has 32GB internal storage and no room for a micro-SD card. The "High Capacity" battery offers 2000 mAh. I feel that the battery life though it could be better, was decent. I was also using a demo phone that had been tested and used by others as well so it could have skewed the results  a bit.
Here are some examples of the variety of colors found in Nokia Devices, the 1o20 is on the far left.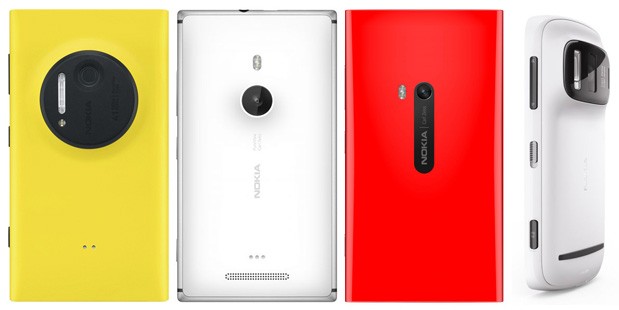 I found this interesting and thought provoking graphic on Nokia's forums with regards to the nokia 1020 that talks about and illustrates the features and capabilities of the device as well(It was illustrated by Jing Zhang a talented illustrator it seems)–>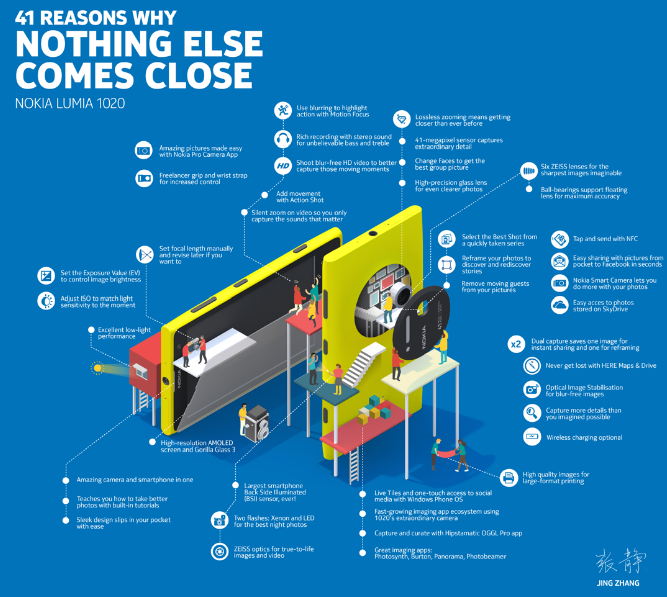 According to Nokia here are its specifications:
Specifications
Display

Display size: 4.5 "
Display technology: ClearBlack, OLED
Touch screen technology: Super sensitive touch

Photography

Main camera sensor: 41 MP, PureView
Secondary camera: HD 1.2 MP wide angle
Flash type: Xenon flash

Power management

Maximum talk time (2G): 8.2 h
Maximum talk time (3G): 12.5 h
Maximum music playback time: 53 h

Processor

Processor name: Qualcomm Snapdragon™ S4
Processor type: Dual-core 1.5 GHz

In reality I found that the phone was snappy in its performance, though there are devices with faster processors available the Nokia 1020 performed well in my testing of it.

I found that its business applications were impressive. The email application worked very well, it reminded me of the email application found on the Blackberry z10 and z30. I think that anyone coming from Blackberry would really like the phone a great deal. It also offers windows applications which work well and integrate well from the user experience in Desktop Windows 8.

I think that the main application screen which has the live tiles is as good as Apples IOS software, I wish it has widgets like Android  but the live tiles seem halfway between Android and IOS in terms of their operations.

The customization of the devices was quite nice. I really liked how windows 8.1 performed on the phone.

I think that the second screen which is found by swiping to the left can be improved a bit, it is a column of words, which could be improved by using icons or having 2 or 3 columns which is not a big deal but a personal impression.

Camera-Photo and video:

I found that this phone has the best camera that I have seen on a smartphone and for that matter many point and shoot cameras as well.

As they say a picture is worth a thousand words:

Here is a sample video I shot on it recently–>

and another at a Breast Cancer Event that Olivia Newton John was Speaking at in Las Vegas at the Linq Observation Wheel–>

The video quality was quite nice, but what really impressed my was the sound quality.

Overall I was highly impressed by the Nokia Lumia 1020. I would love to test and review more of their products as they launched into the marketplace.

The only thing that could be better is the number of applications available from the Application Store as well as the battery life. I can hardly wait for later iterations of Windows Phone to see where they improve it. If the serious  improvement of Windows 8.1 phone versus Windows Phone 7.5 and Windows phone 8 is any indication as it appears to be, then the best is definitely yet to come! We could at some point see an upset in the market versus its competition IOS, Android and Blackberry OS's.

Here are some sample  photos as well:

First a close up of a 20 dollar bill to show its macro abilities and some nice distance shots. As you can see the quality of the images and the color rendition is very nice for a camera or camera phone for the matter.