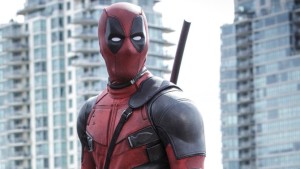 Film Review: 'Deadpool'
I had the opportunity to attend the screening of Deadpool recently in Las Vegas.
I went with 2 of my teens. My 15 year old daughter and my 19 year old son.
My 19 year old son is a huge fan of Deadpool, he really loved the movie.
After seeing the movie, I realize that my daughter is too young to have seen the movie. I kept having to tell her to "oh, close your eyes quick during the movie."
The movie had me laughing during most of the screening. At the age of 47, I am more of a fan of traditional Super Hero movies, such as Guardians of the Galaxy, which was quite funny and a great movie, Ant Man which was funny and a bit irreverent. However, Deadpool took it to a whole new level. I think for the young folks from teens to maybe 25 years old it would be perceived as an awesome movie and they will love it. It kind of seems like they merged a Marvel movie with a script for Family Guy or South Park.
It definitely earns its' R rating, there were a few sex scenes that we quite edgy especially for a super hero movie or in this case antihero.
Overall I would give the movie a C, not the worst movie ever, but not The Avengers or Iron Man either.
My 19 year old son loved it, and would give it an "A."
In terms of the special effects, cinematography and that type of thing, I was rather impressed. The music, sound effects were nice as well.
I liked the breaking of the 4th wall per se', whereby Ryan Rynolds, who did a nice job in Guardians of the Galaxy, talks directly to the audience. I am definitely a fan of things that are different and this movie definitely fit that profile; it was different, interesting and compelling in a sort of Raunchy, a bit nasty way. Overall the movie should appeal heavily to male teen age folks to early 20 something males as well.
That is not to say that other people will not like it as well.
The movie seemed to be in the same genre as movies like Kickass, and Beavis and Butthead but in a well filmed, really funny sort of way.
According to IMDB and 20th Century Fox:

This is the origin story of former Special Forces operative turned mercenary Wade Wilson, who after being subjected to a rogue experiment that leaves him with accelerated healing powers, adopts the alter ego Deadpool. Armed with his new abilities and a dark, twisted sense of humor, Deadpool hunts down the man who nearly destroyed his life.Written by 20th Century Fox
It definitely lived up to that description, as a humorous, dark, twisted, but at times funny on a sarcastic level. I am not sure about the "Feel the love Valentine's day tagline, but you will have to see the movie to find out for yourself as to your thoughts and perceptions of the movie.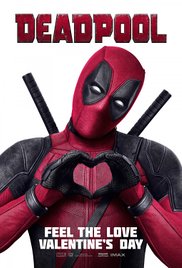 Reviewed at AMC Townsquare, LAS Vegas. MPAA Rating: R. Running time: 107 MIN.
Production
A 20th Century Fox release and presentation, in association with Marvel Entertainment, of a Kinberg Genre/the Donners' Co. production. Produced by Simon Kinberg, Ryan Reynolds, Lauren Shuler Donner. Executive
producers
, Stan Lee, John J. Kelly, Jonathan Komack Martin, Aditya Sood, Rhett Reese, Paul Wernick.
Crew
Directed by Tim Miller. Screenplay, Rhett Reese, Paul Wernick.
Camera
(color, Panavision widescreen), Ken Seng;
editor
, Julian Clarke; music, Tom Holkenborg; music supervisor, John Houlihan; production designer, Sean Haworth; art director, Nigel Evans; set decorator, Shannon Gottlieb; set designers, Randy Hutniak, Sheila Millar; costume designer, Angus Strathie; sound (Dolby Atmos), David Husby; supervising sound editors, Wayne Lemmer, Jim Brookshire; sound designers, Craig Henighan, Lemmer, Ai-ling Lee, Warren Hendriks; re-recording mixers, Paul Massey, Will Files; special effects coordinator, Alex Burdett; visual effects supervisor, Jonathan Rothbart; visual effects producer, Annemarie Griggs; visual effects and animation, Digital Domain, Atomic Fiction, Weta Digital; visual effects, RodeoFX, Luma Pictures; stunt coordinators, Robert Alonzo, Philip J. Silvera; associate producer, Thane Campbell Watkins; assistant director, James Bitonti; second unit director, Robert Alonzo; second unit camera, Roger Vernon; casting, Ronna Kress.
With
Ryan Reynolds, Morena Baccarin, Ed Skrein, T.J. Miller, Gina Carano, Leslie Uggams, Brianna Hildebrand, Karan Soni, Jed Rees, Stefan Kapicic, Randal Reeder, Isaac C. Singleton Jr.