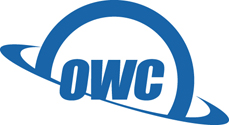 OWC's Most Powerful Connectivity Solution Ever Features Thunderbolt 3 with 13 Ports, USB 3.1 Gen 1, Gigabit Ethernet, Mini Display Port, FireWire 800, SD Card Reader, Digital Audio, & More
Woodstock, IL – September 11, 2017 OWC®, a leading zero emissions Mac and PC technology company, announced that the groundbreaking and highly-anticipated new OWC Thunderbolt 3 Dock, the latest in an award-winning lineup of connectivity expansion solutions, is shipping now. With an incredible 13 ports, the OWC Thunderbolt 3 Dock provides exceptional connectivity through an included Thunderbolt 3 cable, delivering power to laptops and other devices at the fastest speed possible.
"This is the best dock that I've found" – Guy Kawasaki
Business maven and chief evangelist Guy Kawasaki needed a solution to keep his own devices connected to the latest Apple MacBook Pros and had this to say about his OWC Thunderbolt 3 Dock:   "This is the best dock that I've found. It has every freaking port you know you need and some that you don't know you need yet."
The OWC Thunderbolt 3 Dock takes full advantage of the cutting-edge performance of Thunderbolt 3 technology with throughput up to 40Gb/s of bandwidth and allows users to realize the maximum utility of Thunderbolt 3 equipped Macs. The 13 ports offer the capability to charge mobile devices, connect one 5K or two 4K displays, add external storage (including legacy devices such as FireWire drives), import photos and videos from SD cards, access wired networks via Gigabit Ethernet, and enjoy pristine audio – all through a single Thunderbolt 3 cable.
Because Thunderbolt 3 delivers phenomenal bandwidth, the OWC Thunderbolt 3 Dock can be the foundation of a perfect custom display setup, providing the ability to drive the latest- generation 5K displays, two 4K displays or a combination of 4K, HD and other displays with the Mini DisplayPort (mDP) with DisplayPort++ support, and additional Thunderbolt 3 port.
For professionals working in the creative industries, there is typically a highly detailed workflow complete with specialized and legacy ports such as FireWire and digital audio. The OWC Thunderbolt 3 Dock supports FireWire 800 and S/PDIF digital audio, as well as an SD card reader and analog stereo audio.
All that and the 2-year OWC limited warranty: OWC is proud to provide a superior level of support and warranty coverage to our customers. With OWC, the possibilities are endless.
Numerous users and reviewers have had high praise for the OWC Thunderbolt 3 Dock:
"The OWC Thunderbolt 3 Dock is a versatile and capable device and a nice companion to a laptop computer in particular. Through its 13 ports, you can use and power a lot of different devices and its performance is good." – Jeremy Grey, Imaging Resource 
"Devices like the OWC Thunderbolt 3 Dock come along to save the day and be the bridge between the new world and the just a little bit older world." –  James Ivey, Pro Tools Expert
"Forget the rest. This is the Dock I've been looking for." – Nicholas Calderone, MacSources 
Video reviews of the state-of-the-art Thunderbolt 3 Dock:
AppleInsider:  https://www.youtube.com/watch?v=KMU8yvhJ-qU
Geekanoids:  https://www.youtube.com/watch?v=HEXJJGLJ0Yc
Chuck Joiner, MacVoices: https://www.youtube.com/watch?v=cQumqHK0U8k

About OWC
Having served the Apple community worldwide since 1988, OWC has become the reliable manufacturer and upgrade provider of choice for Apple and PC enthusiasts with its extensive catalog of accessories, storage, and memory upgrades for nearly every Mac made in the last decade. Recognized for award-winning customer service, OWC provides extensive U.S.-based technical support for Mac and PC users around the world and comprehensive step-by-step installation and support videos.