Pocket-sized XQ1 features bright F1.8 4x zoom lens, 2/3" X-Trans CMOS II sensor and amazing 0.06 second AF speed
Valhalla, N.Y., October 18, 2013 – As a leader in advanced digital camera technology and outstanding image resolution, FUJIFILM North America Corporation today announced the new FUJIFILM XQ1, a premium pocket-sized digital camera with a bright FUJINON F1.8 4x zoom lens, an advanced 12 Megapixel 2/3" X-Trans CMOS II*1 sensor with phase detection, and the EXR Processor II that delivers the world's fastest autofocus speed in its category of up to 0.06*2 seconds.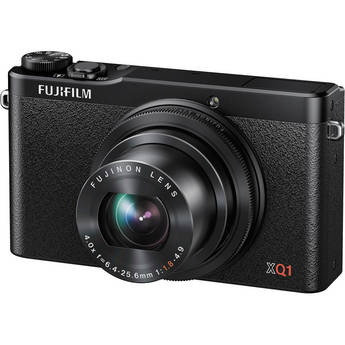 "The XQ1 combines the amazing image quality of the Fujifilm X Series with ultra-portability that makes taking beautiful pictures enjoyable anywhere," said Manny Almeida, senior vice president and general manager, FUJIFILM North America Corporation, Imaging and Electronic Imaging Divisions. "The XQ1 is the most portable X-Series camera ever developed, and people can now experience a premium compact that easily slips into a pocket or purse."
X-Series image quality and advanced focusing
The FUJIFILM XQ1 uses the 12 Megapixel 2/3" X-Trans CMOS II sensor that is designed to control moiré and false color generation by using an original color filter array with a highly randomized pixel arrangement. This technology removes the need for an Optical Low Pass Filter (OLPF) that degrades resolution. The image quality in the XQ1 is further enhanced by using a Lens Modulation Optimizer (LMO) for stunningly sharp pictures, as well as a 3.0 stop*3Optical Image Stabilization for shooting in low light situations.
The newly developed FUJINON F1.8 4x zoom (25-100mm*4) is constructed with 4 aspherical and 3 extra low dispersion lenses and each lens surface is coated with HT-EBC to reduce flare and ghosting. The XQ1 also has a wide sensitivity range from ISO100 to ISO12800 so you can take realistic and vibrant images even in low light.
The EXR Processor II in the new XQ1 more than doubles the processing speed*5 of the previous generation, and it easily captures the information taken from over 100,000 phase detection pixels incorporated in the X-Trans CMOS II to deliver astonishing images.
Superb shooting speed and premium compact design
The XQ1 boasts that world's fastest AF of 0.06 seconds, a shooting interval of just 0.3 seconds*6 between shots, and a shutter lag of 0.015 seconds to capture even the most fleeting and memorable moments.
With its auto switching AF, the XQ1 combines contrast AF with an improved phase detection AF algorithm that provides accurate capture of low-contrast subjects in low light as well as high-speed responsiveness. The XQ1 also gives users Focus Highlight Peaking that outlines high contrast areas of subjects during focusing, which helps users focus accurately for picture results that look fantastic on-screen and in print.
The XQ1 is made with outstanding craftsmanship and the classic design that the X-Series is known for, all within an ultra-small body that is 3.93" (w) x 2.3" (h) x 1.3" (d). With a sharp 920,000 dot LCD screen made of anti-reflective glass, the XQ1 gives photographers an amazing 85°vertical and horizontal viewing angles as they frame every shot.
Improved movie performance
The FUJIFILM XQ1 shoots full HD video with up to 60fps and AF tracking performance for quick and smooth focusing that records clear subjects, even when moving the camera body thanks to its dedicated image stabilization.
Easy Image Transfer with WiFi® button
The FUJIFILM XQ1 includes a WiFi button that lets users transfer high quality photos and movies*7 to smartphones, tablets and computers for easy sharing on social media sites.
To connect the XQ1 to a smartphone or tablet, users can download the free dedicated "FUJIFILM Camera Application" to their iPhone™ / iPad™ or Android™ smartphone or tablet device to transfer up to 30 picturesat a time from the XQ1. The app also lets users download movies, expanding the range of options available for enjoying pictures taken with the camera.
Once paired, users can press and hold the WiFi button to begin sharing images and movies immediately to their smartphone or tablet.
The XQ1 also has an Advanced Filter function and Film Simulation modes to give users a range of creative filters and film effects to apply and achieve unique and artistic looks.
FUJIFILM XQ1 key features list:
12 Megapixels 2/3" X-Trans CMOS II Sensor

EXR Processor II

Start-up time of 1.0

Shutter lag time of 0.015

Shooting interval time of 0.3

AF speed 0.06 seconds

F1.8-F4.9 4x optical zoom equivalent to 25-100mm in 35mm format

4x Intelligent Digital Zoom (16X combined with optical zoom)

Lens Modulation Optimizer for improved image quality

3" (920,000 dot) premium clear LCD (High contrast, High Brightness and Wide viewing angle)

Built-in Super Intelligent pop-up Flash

ISO100 – 12800

Full HD Movie

In-camera RAW converter

Film simulation modes (Velvia, ASTIA, PROVIA, Sepia and Monochrome)

Artistic features: Toy Camera, Miniature, Dynamic Tone, Pop Color, Soft Focus, High Key, Low Key, and Partial Color Selection of Bracketing functions (AE/ISO/Dynamic Range &Film Simulation)
FUJIFILM XQ1 accessories list:
Bottom leather case (Black BLC-XQ1 BC and Brown BLC-XQ1 BW)

Waterproof case WP-XQ1 for depth to 40 meters

O Ring Kit ORK-XQ1
The FUJIFILM XQ1 will be available in October 2013 for $499.95 in both all-black and all-silver.
*1: X-Trans is a trademark or registered trademark of FUJIFILM Corporation
*2: FUJIFILM research as of September 2013. Compared with other digital cameras equipped with 2/3-inch sensor or larger, based on CIPA standards, and using internal measurement methods under high performance mode
*3: CIPA standard
*4: 35mm format
*5: Compared with the EXR Processor Pro
*6: In High Performance Mode
*7: FUJIFILM Camera Application for iOS can save movie files up to 1280 x 720
About Fujifilm
FUJIFILM North America Corporation, a marketing subsidiary of FUJIFILM Holdings America Corporation consists of four operating divisions and one subsidiary company. The Imaging Division provides consumer and commercial photographic products and services, including: photographic paper; digital printing equipment, along with service and support; personalized photo products; film; and one-time-use cameras; and also markets motion picture archival film and on-set color management solutions to the motion picture, broadcast and production industries. The Electronic Imaging Division markets consumer digital cameras, and the Graphic Systems Division supplies products and services to the graphic printing industry. The Optical Devices Division provides optical lenses for the broadcast, cinematography, closed circuit television, videography and industrial markets, and also markets binoculars. FUJIFILM Canada Inc. sells and markets a range of Fujifilm products and services in Canada. For more information, please visit www.fujifilmusa.com/northamerica, go to www.twitter.com/fujifilmus to follow Fujifilm on Twitter, or go to www.facebook.com/FujifilmNorthAmerica to Like Fujifilm on Facebook. To receive news and information direct from Fujifilm via RSS, subscribe at www.fujifilmusa.com/rss.
FUJIFILM Holdings Corporation, Tokyo, Japan, brings continuous innovation and leading-edge products to a broad spectrum of industries, including electronic imaging, digital printing equipment, medical systems, life sciences, graphic arts, flat panel display materials, and office products, based on a vast portfolio of digital, optical, fine chemical and thin film coating technologies. The company was among the top 10 companies around the world granted U.S. patents in 2012, and in the year ended March 31, 2013, had global revenues of $26.7 billion*. Fujifilm is committed to environmental stewardship and good corporate citizenship. For more information, please visit www.fujifilmholdings.com.
* At an exchange rate of 83 yen to the dollar.
All product and company names herein may be trademarks of their registered owners.
###