150° Obstacle Avoidance (Optional)
26MPH Speed
4K Camera
Level 5 Wind Resistance
24 Minutes/Battery
GPS Smart Modes
We recently received a Ranger X 7 Plus EXO to test and review.
We had previously worked with other drones which were much more expensive, however we were really impressed with the Ranger X7 Plus.
It came with a decent controller and the application for Iphone and Android was easy to set up and operate
We received a red Ranger X7 Plus, they also are available in black too: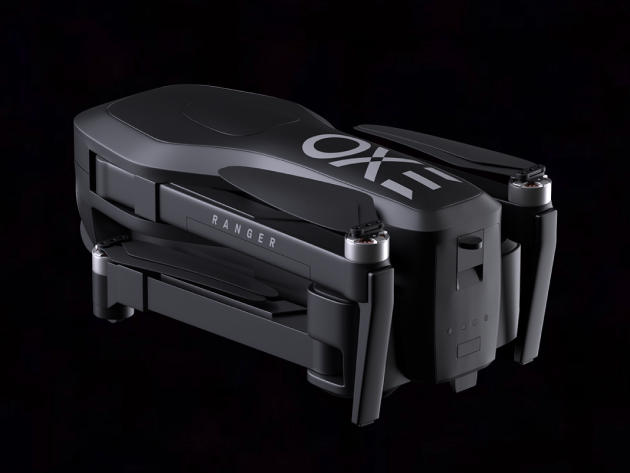 Ours included 2 batteries, and a decent back pack as well to carry everything.
In terms of performance, we took ours out to the park, and set it up and flew it. It seemed to hover in place quite well and when I told it to return to home it did that as well. We did not realize that as part of the return to home function it rises up in the air to avoid objects and then returns to home after that.
Here is a synopsis of features and specifications:–>
FEATURES
Three-Axis Gimbal3-axis gimbal (no camera shake)
Tilts to birds eye
4k dynamic camera
Dual HD cameras (front and bottom)
Zoom lens
110 degree vertical camera tiltGPS makes it easyONE-CLICK RETURN
One tap on the remote and Ranger will fly home and land
Ranger will return automatically when remote control signal is interrupted
Ranger will return and land when power is too low
Flight Made SimpleHD live video feed
Easily operate camera and in-flight features
Monitor your location/dynamics
Simple App instructions (video and labels)25 Minute FlightsLight and Interchangeable
Extra batteries fit in case
7.4v Lithium Ion50x Zoom Burst Zoom in and zoom out.
Create an Action Shot by YourselfSubject Image Follow
Draw a box around yourself and X7 will follow, keeping you centered the whole time.

GPS Tracking
Or keep your phone on you, and X7 will track/film via its signal.Set GPS points on your phoneAI flies the route, completely hands-free. Just drop a pin and X7 circles you keeping you centered for an epic blockbuster effect.Fly AnywhereComes with travel bag
Foldable arm + controller
Quick to takeoffSelfies with No HandsStart a video or take a picture. You make a rectangle with your hands or wave hello and X7 starts recording. No photographer? No problem! Just throw up some deuces and X7 snaps the shot.Built for EverythingGPS for outdoor precision location tracking or LightStream for indoor precision hovering. Fly in windy conditions with variable power control. Pack it without a scratch with quick-snap cover. Compatible with Virtual Reality. Film the night without loosing sight. Visible up to 1000m.
SPECIFICATIONS
Quadcopter Size40 x 38 x 8cm (unfolded) 18 x 9.5 x 8cm (folded)Range Tested to 1/2 mile, best transmission within 1500 ft.Battery7.4V 2800mah li-po batteryWeight 22 ouncesCharge time~ 2.5 – 3 hoursFlight time~ 25 minutesControl distance1000m (.6 mi)Image Transmission~ 600 metersGPS Follow-Me30m distanceImage Follow-Me5m distanceHand Gestures 1-5mMotor 1806 Brushless
Package Contents:Spare Propeller (pair) x2 Spare Screw (piece) x8 InstructionsAircraftRemote ControlRemote Control Rocker (pair) Fuselage BatteryUSB Charging CableBolt Driver
Backpack
2 Batteries and remote
Here is a video that we did of the drone and its' operation–>
Overall we were impressed with the design, quality, ease of operation and would definitely recommend the EXO Ranger 7 Plus and their other drones too!
Here is a link to EXO's website to take a look at the EXO Ranger 7 Plus!