We recently were sent samples of Amx3d's white and black pla.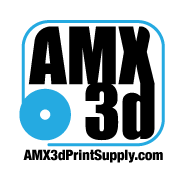 They are located at AMX3d.
An Overview on AMX3d:
AMX3d provides 3D printing supplies of the highest quality to customers demanding the best!

We are passionate about 3D printing… but how did we get here?

Every company has a story… this is the AMX3d story… technology, Robert, the wedding & 3D Printing…

For us, when we started and how it started began in the summer of 2015…

Our founders were tech savvy entrepreneurs before Rep Rap (the birth of much of the technology we use today for 3D printing) was conceived. A father and son team they had formed a mobile technology company located in the Chicago suburbs mostly as a hobby. The son kept his job in technology, the father was a consultant in the financial industry by day. Android and IOS apps kept them busy during the evenings (you can find their apps on Google Play and Amazon appstore if you are curious- search Gen3 Software)… late evening calls when everyone else in the family was asleep were the norm. In general, the conversations were technical talks about APIs, UX, the next opportunity in mobile, the latest IPO. Just what you'd expect father and son tech geek talks to be.

One evening, the topic was a little different. The son was getting married. His Aunt had just called to tell him that she and his Uncle would be unable to attend the wedding due to a very serious health condition with which the Uncle had been recently diagnosed. Upset, disappointed and concerned that his Aunt would be unable to attend, it was boldly proposed that they work together evenings to build a telepresence robot so his Aunt could "attend" the wedding.

Some father son teams go fishing or hunting. This team built technology. Build a robot? Challenge accepted! They attacked this project like they did any new project on a short deadline and fast became familiar technologies that were new to them… robotics, Raspberry Pis, Arduinos, solenoids, relays, voltage converters… and of course, enlisting the expert artistic touches where needed…
We were impressed by the filament, we tested on Seemecnc's Delta Orion printer and an Eistart S from Shining 3d. It worked well on both Printers: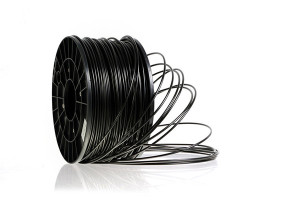 We received a sample of White and Black pla. We used it at 210 to 220 degrees and the quality was quite nice. We used the filament at a range from an unheated and heated bed and it worked well. On the Einstart -S we used a glue stick to help the adhesion, on the Seeme CNC, I used a heated bed at about 45 degrees Celsius.
I was also impressed with the lack of smell from the filament while it printer as well–>