We recently received a Blue wee robot called the Mbot from Makeblock. I assembled it with of one my teen aged sons. It was a fairly simple process and would be a great science project for Middle School or Elementary school or possibly high school science or computer classes.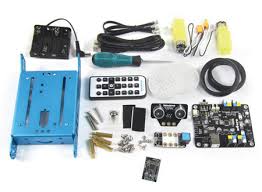 After the robot was assembled we put it through its' paces.
I also took it to a local autism organization and let the young folks there play with it too.
They kids liked the remote controlled operations and the follow the line on paper modes.
I also tried some programming with it and it performed well in that mode too.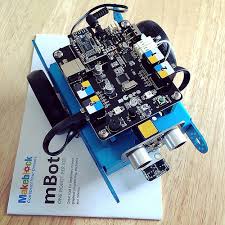 In term of design the device is mostly made of metal, has nice solid wheels covered in rubber, and was a really amazing little device. It operated well on concrete, tile floors and carpet as well. I wish we would have such excellent devices when I was a kid in the 1980's.
The young folks, autism educators, my teen aged sons and daughter and I were quite impressed with the Mbot.
We would love to test and review some of their cool robots too especially the ones with treads.
according to Makeblock–>
mBot is a low cost, easy-to-run robot kit for kids to get hands-on experience about graphical programming, electronics, robotics. It is an all-in-one solution for robotics learning and designed for STEM education.
Cute shape with easy assembly is our goal. mBot contains only about 45 pieces in total, so it is easy to have a sense of achievement for kids to assemble in 10 mins quickly.
I would definitely agree we really liked the wee robot.
For those who want to learn how to program:
Since Scratch2.0 is very popular in teachers and students as a graphical programming software, it has almost been proved to be the most easy-to-use graphical programming tool. So based on Scratch 2.0, we develop a new software mBlock to use Scratch-style coding to program Arduino and robots.
They offer a free download too of the software download link
Here is a link to Makerblock's site to take a look at the mbot and learn more about these cool devices–> site link
We are huge fans of Makerblock and their educational learning tools.