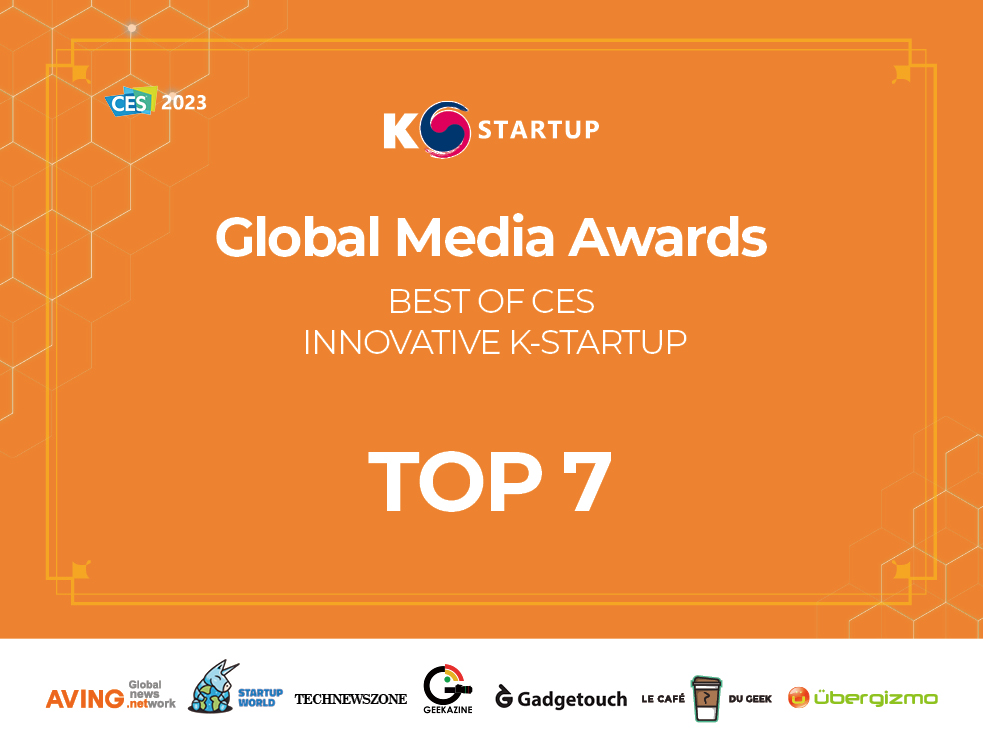 K-Startup Global Media Awards: Who are the Winners under the Spotlight in CES 2023?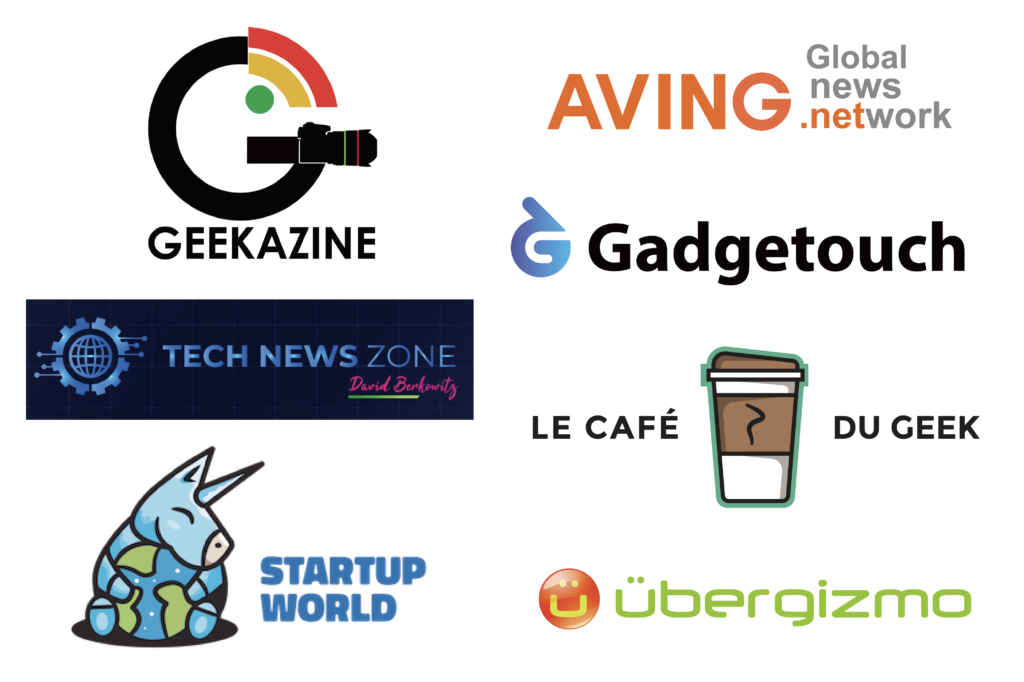 Global Media hosted the K-Startup Global Media Awards event for Korean innovators attending CES 2023 taking place in Las Vegas, U.S., for four days from Thursday, January 5 to Sunday, January 8, 2023 in local time.
The awards were pre-determined by various press media such as Ubergizmo (U.S.), Geekazine (U.S.), Technewszone (U.S.), GadgetTouch (Japan), Le Café du Geek (France), Startupworld (Europe), and Aving News (South Korea) to examine marketability, potential to enter the global market, investment value, and competitiveness.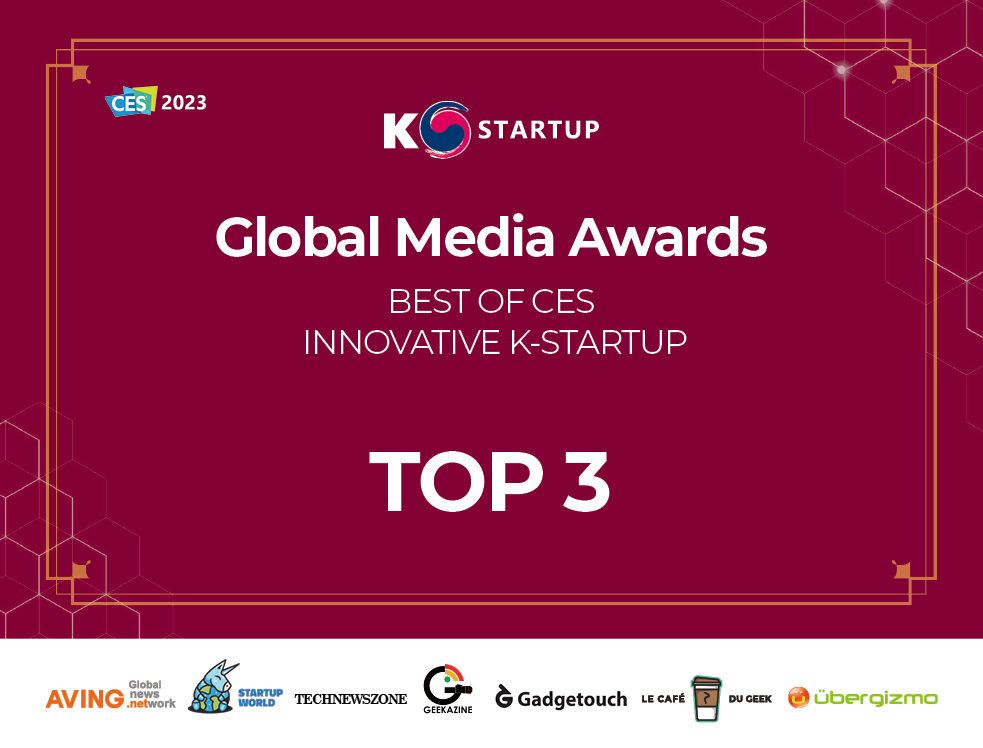 K-Startup Global Media Awards are selected by the media participating in the CES after screening Korean innovators. The award ceremony will be held at the K-Startup Joint Pavilion in CES 2023, and the winners will be announced through the respective media channels.
For the Best of K-Startups selected by CES, the winners include Nuvilab, Dongnamrealize, and Huenit. Furthermore, the Best of K-Startups selected by each media, the winners are pulse9 by Geekazine from U.S., Huenit by Aving New from South Korea, SEVENPOINTONE by GadgetTouch from Japan, Dongnamrealize by Le Café du Geek from France, Nuvilab by Startupworld from Europe, and Preneu by Technewszone from the U.S.
With more than 2,800 businesses participating from 173 countries and territories, the size of CES 2023 grew about 50% compared to last year. This year's CES covers five themes which are automotive, digital healthcare, web 3.0, metaverse, and sustainability and human security. Keynote speeches will be delivered by global leaders such as Lisa Su, CEO of AMD, Oliver Zipse, Chairman of BMW Group, and John C. May, CEO of John Deere.
Nuvilab Presents Future Vision of Diets and Healthcare in CES 2023!
Nuvilab will participate in the Consumer Electronics Show (CES) 2023 at the Las Vegas Convention Center in the United States for four days from Thursday, January 5 to Sunday, January 8, 2023 in local time. Nuvilab that has taken part in the event since 2020 and will set up its first dedicated booth this year, introducing key solutions based on digital healthcare, food technology, and sustainability.
The startup sees this CES where over 170,000 people are expected to visit from 158 countries as an opportunity to accelerate its global expansion. It will be their first time showcasing Nuvilab's key solution "AI Food Scanner" along with digital healthcare offerings such as an infant growth management solution, diet management solution for people with chronic conditions, mobile food diaries, and food scanning APIs.
According to Nuvilab's CEO, Daehoon Kim, "We are confident that our food technology will lead innovation not only in the ESG industry, but also in the healthcare industry," adding that "This CES 2023 will be a great opportunity to promote our technology even further and collaborate with world-class enterprises."
Dongnamrealize Reveals CXP Flame-retardant Grade Products in CES 2023
Dongnamrealize produces CXP wood, a material capable of thermoplastic molding such as injection and extrusion. The firm aims to establish a culture where all members engaged in the production and consumption of wood can easily participate in benefiting forests.
As a material usable in existing plastic factories, CXP wood can replace most plastic products used in our everyday life with wooden products. The by-products bound to be generated in the process of forestry and agriculture are processed and distributed in a form that can be melted in plants. This reduces waste from the forestry industry and helps reduce the absolute quantity of carbon dioxide in the atmosphere by storing carbon through productization, according to Dongnamrealize.
The CXP flame-retardant wooden power strip to be introduced for this exhibition does not easily catch fire, even though it is made of wood. This user-friendly product passes the usual high-temperature flame-retardant tests and emits no toxicity to fire with a low temperature that can happen in daily life.
A Dongnamrealize representative explained, "Our desire was to change people's prejudice against wood that they are vulnerable to fire and difficult to use. "Since the first launch of CXP material in August last year, we have achieved sales of KRW 1 billion in 2022 within a year and our products got into more than 100 zero-waist (green) shops." They added "Partnerships are underway with large enterprises from home and abroad to see where the products can be applied. For some businesses, the usage and its application period are have been determined, so we expect to witness how CXP materials are applied in large companies within a year or two."
Huenit Attends CES with its Artificial Intelligence Modular Robot Arm HUENIT
Artificial Intelligence Modular Robot Arm HUENIT was honored with the CES 2023 Innovation Award. The startup has researched and developed educational content using HUENIT for STEAM while providing fun and educational content with AI, robotics, and software. Furthermore, the business is currently developing hand drip coffee and ice cream robot systems using HUENIT, and is expecting that their products will become popularized in everyday life within a year or two.
The version of HUENIT to be introduce in this exhibition is a multi-function, high-precision AI modular robot arm for makers and automation systems. Featuring AI vision, laser sculpting, 3D printing, robotic gripper, writing and drawing, the robot is also equipped with a customization module. Moreover, a variety of development environments, including visual programming (block coding), Python, and Arduino (C++) programming are supported.
Users can also learn and experience the entire process of artificial intelligence training using Tensorflow with an AI accelerator (NPU) built in the HUENIT camera module. All functions can be easily learned and utilized even by beginners through the HUENIT software platform.
Pulse9 Reveals their Independently Created Virtual Human Production Technology Deep Real AI in CES 2023!
Founded in 2017, Pulse9 has developed a variety of content. In particular, the startup created "virtual humans" and applied it to a range of content with its R&D experience in 3D graphics technology. One such iconic example is its first virtual K-pop group, Eternity. Known for their exceptional appearance and unique world view, Eternity was unveiled last year for the company's K-pop group entertainment business.
Pulse9's Eternity is a virtual human group created by their own Deep Real AI. Deep Real AI is a real-world-like virtual human AI service developed to accommodate the needs for real-time broadcasting of virtual influencers in the live commerce market, characterized by the application of a Pulse9's proprietary image data preprocessing procedure.
Based on this, the tech business enables high quality modeling in a relatively short time when learning a virtual character creation model. The result can make basic utterances and activities as well as perform mukbang (binge-eating show) powered by advanced technology.
Pulse9 aims to target the global market with its technology-intensive virtual K-pop girl group Eternity. In March last year, the band released a variety of single albums and music videos starting with their first song, "I'm real," which led to the voluntary formation of the fandom "Eternal" in 49 countries that includes Indonesia, Vietnam, Thailand, and South America. Backed by this popularity, the firm will operate a full-fledged culture technology business show business.
According to a representative from Pulse9, "We expect to strengthen the impact of our content and technology in this CES. Our plan is to apply vertical integration to sales, technology, content, and distribution structure to reinforce our market dominance." They added, "We work toward creating a virtuous cycle by continuing reinvestment in our characters and technology development on the basis of the future outcome to spur our advance into the global B2C market."
SEVENPOINTONE Showcases AI-based Contact-free Testing Solution AlzWIN in CES 2023
The digital healthcare startup that has been developing solutions to improve cognitive abilities and depression using VR (Virtual Reality) contents by analyzing conversations for early identification of subjects with a high risk of dementia. To date, the business has filed for 10 patent registrations in the related field, attracting Naver D2SF investment in recognition of the marketability of its technology.
Based on its accomplishment, SEVENPOINTONE continues to grow, expanding the business around Naver Cloud and municipalities. Furthermore, the medical device maker has collaborated successfully with various public organizations, insurance providers, pharmaceutical companies, and medical institutions at home and abroad.
In the exhibition, SEVENPOINTONE is presenting AI-based contact-free testing solution AlzWIN. This offers a simple interactive test that can be done within 1-2 minutes to determine the risk of cognitive decline from older subjects.
With the high availability to be applied to any devices capable of speech recognition, the solution is equipped with the AI technology that analyzes the cognitive abilities of the subject, immediately providing the results. And thanks to these advantages the testees can periodically check their cognitive health as if using a personal vital meter for long-term tracking and management.
A SEVENPOINTONE representative said, "The globally prevailing perspective is that aging will continue over the next three decades. This rapidly aging trend is leading to a surge in patients with dementia and elderly depression." "According to a study published by the University of Michigan, 91.4% of potential dementia patients are not diagnosed with dementia. To address these problems, solutions to diagnose and prevent dementia on an early stage were indispensable and that is why we sought to find the solution in AI," the representative described the development background.
PRENEU Presents its New Drone Ruepel in CES 2023
Specializing in drone manufacturing and related services, the Korean startup has developed and provided surveillance and patrolling, structural inspection, and drone solutions for shipping since its establishment in 2017. First, PRENEU was an educational drones distributor, but then it expanded its business to industrial machine manufacturing and drone operation services. Now, the company is also investing in the development of artificial intelligence smart drones integrated with the Internet of Things (IoT).
In this exhibition, PRENEU will showcase its drone model Ruepel, which features excellent portability and long flight capability. The helicopter-type drone is basically a 7-foot-long helicopter with an assembly design. This makes it convenient to store the device in a portable case and operate anywhere and anytime.
While commercial drones with similar sizes and specifications typically fly about 60 minutes, PRENEU's Ruepel can hover for up to 90 minutes. It can also work regardless of adverse weather conditions and features optimized performance for patrolling, whether it be over the mountains or the sea.
According to a representative from PRENEU, "We are a fast-growing drone startup with the global market in mind. We are committed to our goals and seeking potential customers in CES where one can effectively promote new and versatile technology to global customers."
Meanwhile, the world's largest technology fair CES is an exhibition that provides an at-a-glance view of the consumer electronics industry around the world. It is held annually in Las Vegas in January by the Consumer Technology Association (CTA). Aving News has annually reported on CES news for the world for 17 consecutive years since 2006, hosting the Best of CES which selects the best innovative products and technologies, and the Best of Made in Korea that chooses the most innovative businesses in South Korea. In addition, the media has delivered breaking news about CES through AIVING LIVE.
The K-Startup Joint Pavilion is jointly attended by Korea Institute of Startup & Entrepreneurship Development, Seoul Business Agency, and Seoul Digital Foundation while 50 Korean innovators participate to tap into the U.S. market and discover global partners. In addition, CES 2023 university student supporters selected from Kyung Hee, Kookmin, Sogang, and Chung-Ang Universities are matched based on their specialties and the participating businesses' industry fields.
* Special coverage by Joseph Choe, Kidai Kim, Dongkwan Kim, Mokkyung Lee, Sangun Choi, Joon Suh Lee, Yeawon Choi, Jinnsun Park, Seung Hyun Nam, and Min Seok Cha
→ Go to Special Pages for CES 2023 News