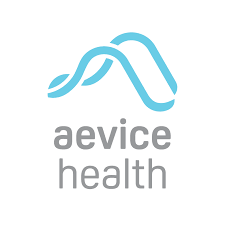 AEVICE HEALTH NAMED AS CES 2023 INNOVATION AWARDS HONOREE,
LAUNCHES WORLD'S SMALLEST WEARABLE STETHOSCOPE AT CES 2023
Singapore, 29 December 2022 — Aevice Health, a Singapore-based MedTech
company developing novel wearables for remote respiratory monitoring, today announced
that it will introduce its flagship medical device, the AeviceMD, at CES 2023, Jan. 5 – 8,
The AeviceMD has received the CES® 2023 Best of Innovation Awards in the digital
health category, an award recognising the best of breakthrough technologies improving
health equity and saving lives.
Weighing barely 0.31 ounces and measuring 1.2 inches in diameter, the AeviceMD is
the world's smallest smart wearable stethoscope. The coin-sized sensor enables
round-the-clock care at home by listening and analyzing the patient's heart and lung sounds
continuously. When its algorithm detects abnormalities ahead, it notifies caregivers to take
early actions, arresting exacerbations before they escalate.
Worn on the patient's chest using a proprietary silicone patch that is soft, flexible and
repositionable, the AeviceMD is uniquely designed to prioritize comfort and wearability for a
wide population from pediatrics to geriatrics while reducing wastage caused by single-used
adhesives.
"It is an honor for our AeviceMD to be accorded the prestigious CES Best of
Innovation award. Growing up with asthma, it's heartwarming to see how our technology
usher new ways chronic respiratory disease can be managed beyond the hospital by
monitoring key symptoms that are previously only recognizable by healthcare professionals
in-person." Adrian Ang, CEO of Aevice Health said. "This award is a testament to the hard
work and support we've received over the years and a large motivation for us to remain
steadfast in our goal of delivering effective, affordable, and comfortable care for patients."
This year's CES Innovation Awards program received a record high number of over
2100 submissions. The CES Innovation Awards program, owned and produced by the
Consumer Technology Association (CTA)®, is an annual competition honoring outstanding
design and engineering in 28 consumer technology product categories. Those with the
highest rating receive the "Best of Innovation" distinction. An elite panel of industry expert
judges, including members of the media, designers, engineers and more, reviewed
submissions based on innovation, engineering and functionality, aesthetic and design.
The Aevice Health booth will be located in Tech West, Hall G, Booth 60849. The
AeviceMD will also be showcased at the Innovation Awards display, located in the Venetian
Expo, Hall D #56320.
#
About Aevice Health
Aevice Health Pte Ltd is a Singapore-based MedTech company at the forefront of
addressing chronic respiratory disease, one of the generation's biggest healthcare
challenges.
The company's non-invasive wearable devices enable the early detection of
cardiopulmonary abnormalities remotely and in real-time, so that patients can receive fast
and targeted care from the ease of their homes. Clinicians can also gain insights into their
patients' health and track their responses to treatment plans easily from the Aevice analytical
platform.
In Aevice Health, our mission is to drive medical innovations that transform healthcare,
improve outcomes and empower lives.
More information about the company can be found at www.aevice.com.