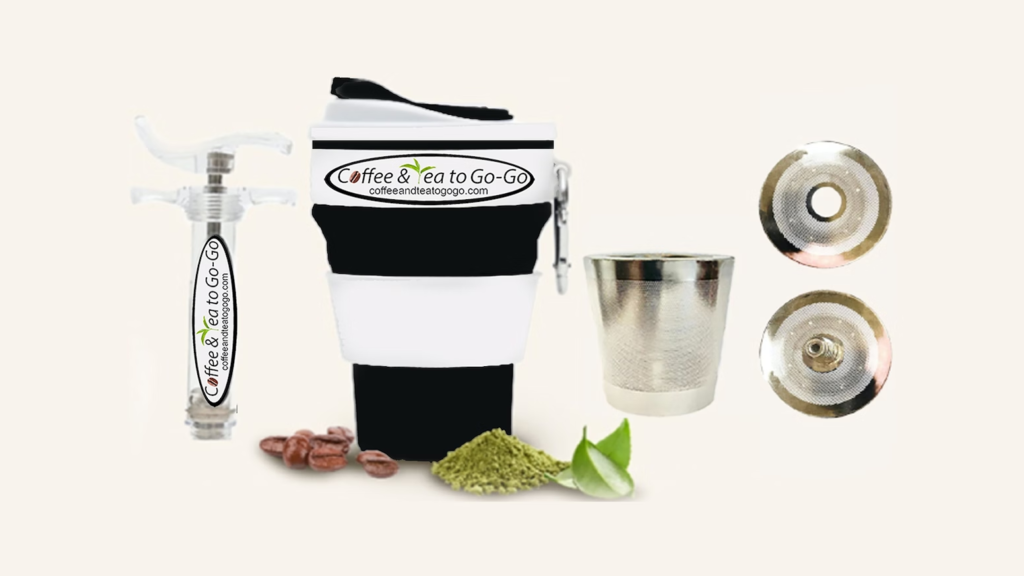 We are huge fans of coffee and like to help startups like on Kickstarter and Indiegogo.
We saw this product, were intrigued, and backed the project. We are going to collaborate with them to help them in their future efforts as well, most likely.
They are also trying to help the folks in the Ukraine:
After discovering, just how essential coffee is to the military worldwide ( I googled war and coffee and was amazed at all the articles that I discovered). I decided to make this Indiegogo campaign more impactful and meaningful. Coffee & Tea to Go Go™ was created with great passion for not only coffee and tea, but also for innovation, the environment and now spreading kindness. Through this Indiegogo campaign, we want to raise awareness to the ongoing humanitarian crisis in Ukraine and give back to those in need. Backers to this campaign could collectively come together to help to make difference in this senseless war. We are our world, and we can all do something altruistic, philanthropic and feel great about it! It's really simply synergy, as a backer you get a Coffee & Tea to Go Go™ and give-back at the same time. We will be donating 10% of the proceeds from every Coffee & Tea subscription purchased at $15 (8oz) or $20 (1lb) to the largest Ukrainian charity United24 – backed by Ukraine and President Volodymyr Zelenskyy to raise money for their most pressing needs Defense and Demining, Medical Aid and Rebuilding Ukraine. In addition, since caffeinated drinks are vital for soldiers out in the battlefield, for obvious reasons; to keep them awake and alive. For every 10 Coffee & Tea to Go Go™ purchased and every $50 raised on Indiegogo, 1 Coffee & Tea to Go Go™ will be sent to a Ukrainian soldier. Think about it – Why do we all drink coffee and tea? Soldiers, also need to take some solace and comfort whenever they get a moment just to alleviate and relieve the pains of war. Stand, and in this case – Sip With Ukraine for their struggle for sovereignty, freedom and liberty that they all deserve!
Story
Introducing
Coffee & Tea to Go Go™
Problem:
We are polluting our planet through the beverages we drink. Coffee & tea require pods, filters, sachets and cups that are all wasteful as they are thrown away and can sit in landfills for decades or worse wind up in our ocean's even longer.
Additionally, we spend both time (up to 2.5 hours a week) waiting in lines & money (average over $1,200 a year) on coffee & tea at our local shops.
Freshly brewed is hard to come by in the great outdoors; on a hike, camping, the beach, etc.
Solution – Coffee & Tea to Go Go™:
Create a Dual-Purpose Filter: Sustainable, Eco-Friendly & Reusable K-Cup (Fits all Keurig machines). A filter for home and office, that also transforms into the smallest & lightest (Entire Brewing Kit weighs less than 7 ounces: Silicone Cup, Siphon/Pump, Filter with Indoor & Outdoor tops, Filter Brush and Spoon) portable coffee and tea brewing product in the world!
Step 1: Fill the Filter with coffee or tea
Step 2: Screw on Top & Siphon/Pump
Step 3: Place in water – push & pull 3-7 times depending on desired strength & flavor
Step 4: That's it – Sip & Enjoy!
The siphon/pump combined with the filter allows you to control your brew strength richness and density of your coffee & tea flavor.
Gadget Flow gives Coffee & Tea to Go Go its first review with a 9.2 rating out of 10!
How it all began…
Brewing from home a few years ago my wife and I chose, just like over *42% of all American households, to make our lives easier by purchasing a single cup coffee & tea brewing system. We chose a **Keurig, the most popular make and model.
On the way to work, I would just grab a cup from the local shop at breakfast and then later in the day stop in for another cup to power through the afternoon.
The onset of Covid it changed everything around the world. In New York City, our coffee & tea options within our community became limited to go to the local coffee shop and get our daily fix. Retailers were closing their doors, but the great outdoors were wide open. No longer being able to go into the office, we took advantage of our time. Like a lot of people, we started traveling and getting back to nature; visiting national parks, beautiful mountain ranges and coastlines that the good old USA is known for (We really do live on an incredible continent with so much diversity!).
Being out of work for months waiting for Covid to stop peaking allowed us all to really give life a good-think! Regarding coffee & tea, I started pondering the fact that while our Keurig machine makes life easier, we were contributing to the problem of polluting by throwing away coffee & tea pods every day.
Coffee cups aren't any better, as we're all throwing them away as well, just for sheer convenience without realizing what we're doing to our environment.
Fact is, it can start out innocently, as we feel we're doing the right thing by throwing them in a garbage that may even be labeled, "Recycle"
Unfortunately, it ends up here:
So, just how many cups get tossed away every year?
Above, the Seattle Space stands 605 ft. This mountain of cups represents almost 4 x that amount. 2300 ft. is almost 1/2 a mile in length and that's just in the USA. How many get thrown away worldwide?
Sadly, ***1 out of every 400 only get recycled, because of the polyethylene lining in cups used to prevent them from leaking.
They wind up in landfills for decades.
So, let's just –
As they end up in our ocean's as well.
Plus,
We have habits out of sheer convenience and neglect for our surroundings. It's really easy to do better when it comes to our environment!
So, I started thinking about all of this. There certainly are K-cups and other coffee & tea pods that are reusable, sustainable and save our environment from disposable plastics. There are many portable coffee & tea brewers as well. Hmmm, I thought further and said, "What if you can design one device that would be a catch-all and do both?" I searched high and low and I couldn't find one.
I went to work on this idea. I met with many designers, engineers and manufacturers.
I knew there had to be a way to achieve an at home and on the go coffee and tea micro-brewer. Many, many prototypes later, through trial and error, we did it!
We designed a perfectly engineered Dual Purpose Filter: Eco-friendly, reusable, sustainable filter that can be used in the home and office, yet also transforms into the lightest and smallest portable coffee & tea micro-brewing product in the world!
One Filter – with Two Tops:
Dual Purpose Filter – With Two Tops:
Don't Do This – Do This! ….And Go From This – To This – Like That!
Coffee & Tea to Go Go™ most certainly will eliminate waste:
What also makes Coffee & Tea to Go Go™ extra special is that it is ideal for travel, since we took it a step further and created a brewing kit that comes with a silicone cup not only used for brewing your tea or coffee, but also doubles as the carrying case to hold all the components within the kit!:
Day trip or hike:
Camping:
Casual around town:
Train to the city:
To the office for business for that extra cup to power you through your day:
All while avoiding lines:
Saving both Time:
& Money:
Coffee & Tea to Go Go™ = No disposable cups, coffee & tea pods and filters and you'll save up to 85% in time and money having your choice of premium coffee & tea (depending how long you wait in line, spend and what your local coffee shop serves).
Materials used:
In summary:
While Covid has been a truly horrific experience, that so many people worldwide are still going through, it opened up a moment in time, to use our imagination, dream big and make a better-quality product with a dual purpose:
As well as a "feel-great" product in knowing that we are having a positive impact on our planet:
All while enjoying our favorite coffee & tea beverage:
A benefit of Coffee & Tea to Go Go™, you can also choose to use your own premium coffee and tea and save money. We partnered with several coffee & tea companies to include as Bundled Perks – artisanal and curated coffee & tea subscriptions with over 15 varieties to choose from:
Coffee: French Roast, Sumatra Black Satin, Colombia Supremo, Costa Rica reserve, Tanzania, Ethiopian Yirgacheffe, Kenya AA, Ethiopian, Amaretto, Dark Chocolate, Vanilla Hazelnut, Chocolate Raspberry and more…
Teas: Earl Grey, Masala Chai, African Rooibos, Lapsang Souchong, Cranberry Apple Tisane, Jasmine with Flowers, Egyptian Chamomile and more…
Subscriptions are offered at discounted prices & bundled with Coffee & Tea to Go Go™:
1 month: Coffee or Tea
3 month: Coffee or Tea
Some coffee & tea varieties are seasonal and will change throughout the year. Therefore, once an order is placed for this campaign you will receive a final list of all of our varieties and can make a final selection for your initial order. You'll always have the option to change your variety and/or opt out of any future subscription orders.
Thank you so much for taking the time to read through our campaign. We hope you share the same passion we have for Coffee & Tea to Go Go™.
Delivery schedules:
All design work and machining prototypes have been done. We also have great relationships with our manufacturers and are in weekly communication. This is essential to ensure we can easily monitor production and provide the very best quality for you.
We are ready to take Coffee & Tea to Go Go™ to the next level. It's more than a prototype, it works and works very well! We wanted to celebrate on Kickstarter by launching it to this loyal community who soon will become Coffee & Tea to Go Go Fans as well.
We'll be ready to crank the wheels of production, right after the close of the campaign and shipping is estimated to commence in late November. We will do our best to ship on time (However, when manufacturing world-first innovative products, there can be unforeseen obstacles). We will communicate any unavoidable delays directly with our backers using the campaign updates feature. We will look to have it in everyone's hands by November-December. Feel free to not only purchase one for yourself, and give this unique gift for the holidays that can be used time and time again!
Shipping Fees:
Will be without surcharges and will never be above and beyond the costs to actually ship Coffee & Tea to Go Go to you stateside.
International backers:
If you live outside of the United States, all import duties/taxes are your responsibility. Should your country not be listed for shipping, please contact our team via email info@coffeeandteatogogo.com and we will be in contact with you looking to source the least expensive means necessary in getting Coffee & Tea to Go Go to you.
In addition to the above, we are contracting the expertise of a professional packaging design company. This means Coffee & Tea to Go Go will arrive in a highly presentable, gift worthy packaging with full instructions for use.
We appreciate packaging is a concern for many backers for environmental reasons. We commend this view and will be sending a survey closer to the time of delivery where you will be able to opt-out of gift packaging and will provide a transit protected, eco-friendly alternative as well.
Thank you for your time and please feel free to share our campaign with coffee & tea enthusiasts everywhere!
* Statista – % of American Households that own a Single-Cup Brewing System
** Keurig – Market Share of Single-Cup Brewing Systems
***Waste Advantage Magazine – 1 in 400 Cups are only Recycled = 99.9975% are not
Risks and challenges
Firstly, we are committed to excellent communication throughout the whole campaign, as we understand the importance of keeping our backers up to date on all developments (no matter how big or small). Our focus has been to de-risk the campaign and overcome any potential concerns for our backers. These steps have involved; funding all the development costs, sourcing manufacturing partners with several rounds of samples. We are currently ready to take Coffee & Tea to Go Go™ to the next level, as it's more than a prototype, it works and works very well! We cannot express the level of passion, persistency, tenacity that has been invested into this project. At less than 7oz., it's factually the smallest and lightest Micro-Brewing Kit on the market today. The final way in which we've eliminated risk on this project is believing that we will deliver nothing less than the exceptional product we've promised. Therefore, we have also booked flights to visit our factory and ensure the manufacture process runs smoothly! We wanted to celebrate on Kickstarter by launching it to its loyal community (You) first, who soon will become Coffee & Tea to Go Go Fans as well. We have also strategically planned the process of post-campaign and we'll be ready to crank the wheels of production, right after the close of the campaign to have it in everyone's hands come November-December, so feel free to not only purchase one for yourself, but give this unique gift for the Holiday's that can be used time and time again! We have an incredible amount of belief in our latest and greatest invention and want to invite you on the journey of helping us make Coffee & Tea to Go Go™ a reality, a household name and kitchen appliance brand that will become readily available to everyone. Thank you for your time and please feel free to share our campaign with Coffee & Tea Enthusiasts everywhere!Learn about accountability on Kickstarter
Environmental commitments
Visit our Environmental Resources Center to learn how Kickstarter encourages sustainable practices.
Long-lasting design
Coffee & Tea to Go Go is designed to be durable as it is made from heavy duty Sterling Silver 304 metals and 100% Recycled Engineering Plastic designed to be used every day and last for many years to come!
Reusability and recyclability
This is an amazing question considering through purchasing Coffee &Tea to Go Go, every sale and use of the product keeps coffee and tea pods, paper filters and cups out of our environment (lands, rivers, lakes, ponds and ocean) and makes for a better lifestyle for all us inclusive of all the wildlife that these pollutants harm. Must mention all the trees that get torn down to make paper products. The entire device Coffee & Tea to Go Go is Sustainable, Eco-Friendly and Reusable.
Sustainable materials
Sterling Silver 304 Metals and 100% Recycled Engineering Plastic are used and the entire device Coffee & Tea to Go Go is Sustainable, Eco-Friendly and Reusable
Environmentally friendly factories
We've made sure that all the factories we work with have low carbon output
Sustainable Distribution
We will be using delivery boxes made of recycled paper. After all we have a device Coffee & Tea to Go Go that is Sustainable, Eco-Friendly and Reusable. We absolutely do not want our packaging to be any different!
Something else
We Are Our World, lets come together for the greater good! Share with us our dream and passion to help put Coffee & Tea to Go Go in as many peoples Coffee & Tea daily routine, so that we can make a difference with the environment we share and have Sustainable, Eco-Friendly and Reusable Coffee & Tea Micro-Brewer instead of needlessly throwing out paper and plastic that pollutes our planet!
Questions about this project? Check out the FAQ