Artillery3d recently sent us a Hornet to test and review.
It's specifications are:

Extruder type: Single nozzle
Nozzle size: 0.4 mm
Max. build volume: 220 x 220 x 250 mm
Max. extruder temperature: 240 ℃
Max. heated bed temperature: 80 ℃
Max. print speed: 60-100 mm/s
Closed print chamber: No
Bed leveling: Manual
Print bed: Artillery Build Plate
UI: LCD, rotary encoder
Connectivity: N/A
Built-in camera: No
Resume print: N/A
Filament sensor: N/A
So far the printer has worked quite well, and we are impressed by its design and construction.
We have tested PLA from 3d Fuel, Polymaker, Zyltech and Sakata3d and it has for the most part performed rather well.
The printer uses straight marlin, with a touch screen and a control dial. It may not be fancy in the respect but it works and works well so far.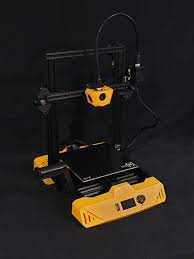 We are still testing and reviewing the printer. We are rather impressed by it so far.
We like the yellow injection molded design. It seems well made, easy to assemble and is quite.
It uses an innovative all in one wiring and bowden connector that is easy to install and remove and is said to run $9 to replace which is reasonable. We tried tpu filament with it and it did work, it was. not perfect but it did work at a speed of 30. We have had the best luck using either Cura or Ideamaker with the printer. There is a profile for the Hornet available on Ideamakers library for PLA, PETG and TPU which is a bonus.
We are still working on the review.
You can find videos and images on our instagram page, twitter and youtube as well see links below.
https://www.instagram.com/technewszone/
https://www.youtube.com/technewszonecom