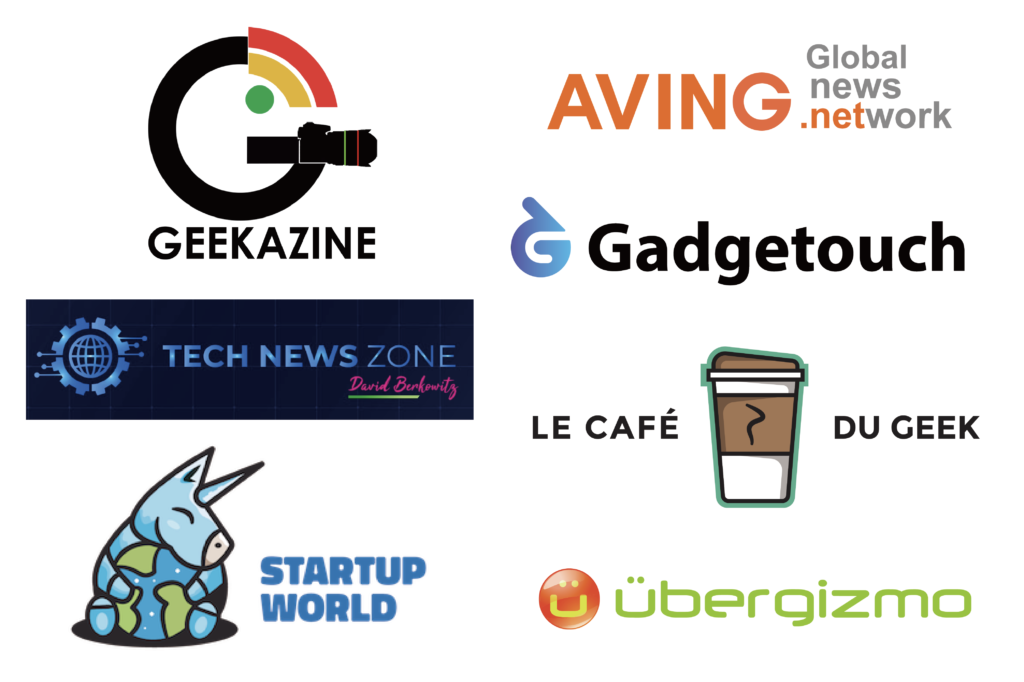 [On-site News] Innovative Korean Start-ups Shine in CES2023 K-Startup Global Media Awards
On January 7 (local time), the K-Startup Global Media Awards was held for domestic innovators participating in CES2023 in Las Vegas, USA. | Photo by Aving News

[Las Vegas, USA = Aving News] Global Media hosted the K-Startup Global Media Awards event for Korean innovators attending CES 2023 held in Las Vegas, U.S. for four days from Thursday, January 5 to Sunday, January 8, 2023 (local time).

The award recipients to be celebrated on the 7th were pre-selected by various press media such as Ubergizmo (U.S.), Geekazine (U.S.), Technewszone (U.S.), GadgetTouch (Japan), Le Café du Geek (France), Startupworld (Europe), and Aving News (South Korea) based on their marketability, potential to enter the global market, investment value, and competitiveness.

The K-Startup Global Media Awards recipients were selected among Korean innovative companies by the media participating in the CES. The awards ceremony was held at the K-Startup Joint Pavilion during CES 2023, and the results have been reported through each media channel.

For the Best of K-Startups, CES, the winners included Nuvilab, Dongnamrealize, and Huenit. For the Best of K-Startups selected by each media outlet, the winners were Pulse9 (Geekazine, U.S.), Huenit (Aving News, South Korea), SEVENPOINTONE (GadgetTouch, Japan), Dongnamrealize (Le Café du Geek, France), Nuvilab (Startupworld, Europe), and Preneu (Technewszone, U.S.).

With more than 2,800 businesses participating from 173 countries and territories, the size of CES 2023 grew about 50% compared to last year. This year's CES covered five themes: automotive, digital healthcare, web 3.0, metaverse, and sustainability and human security for all. Keynote speeches were be delivered by global leaders such as Lisa Su, CEO of AMD, Oliver Zipse, Chairman of BMW Group, and John C. May, CEO of John Deere.


Nuvilab Presents Future Vision of Diet Healthcare in CES 2023!

Taking part in CES since 2020, Nuvilab set up its first dedicated booth this year, introducing key solutions based on digital healthcare, food technology, and sustainability.

Nuvilab sees this CES as an opportunity to accelerate its entry into the global market. At their booth, Nuvilab showcased their key solution "AI Food Scanner" along with digital healthcare offerings such as an infant growth management solution, diet management solution for people with chronic conditions, mobile food diaries, and food scanning APIs for the first time.


Dongnamrealize Reveals CXP Flame-retardant Grade Products in CES 2023

The CXP flame-retardant wooden extension cord that Dongnamrealize introduced in this exhibition is resistant to fire despite being made of wood. This user-friendly product passes the usual high-temperature flame-retardant tests and emits no toxicity in low temperature fires that can happen in daily life.

Huenit Attends CES with its Artificial Intelligence Modular Robot Arm HUENIT

The version of HUENIT introduced in this exhibition is a multi-functional, high-precision AI modular robot arm for makers and automation systems. Featuring AI vision, laser sculpting, 3D printing, robotic gripper, and writing and drawing functions, the robot is also equipped with a customization module. Moreover, a variety of development environments, including visual programming (block coding), Python, and Arduino (C++) programming are supported.

Users can also learn and experience the entire process of artificial intelligence training using Tensorflow with an AI accelerator (NPU) built in the HUENIT camera module. All functions can be easily learned and utilized even by beginners through the HUENIT software platform.


Pulse9 Reveals their Exclusive Virtual Human Production Technology Deep Real AI in CES 2023

Pulse9's Eternity is a virtual human group created by their exclusive Deep Real AI. Deep Real AI is a real-world-like virtual human AI service developed to accommodate the needs for real-time broadcasting of virtual influencers in the live commerce market, characterized by the application of Pulse9's proprietary image data preprocessing procedure.

Based on this, the technology enables high quality modeling in a relatively short time when learning virtual character creation models. The result can perform basic talking and activities, and even perform mukbang (binge-eating shows), which requires advanced technology.


SEVENPOINTONE Showcases AI-based Contact-free Testing Solution AlzWIN in CES 2023

SEVENPOINTONE presented its AI-based contact-free testing solution AlzWIN in this exhibition. This offers a simple interactive test that can be done within 1-2 minutes to determine the risk of cognitive decline in older subjects.

This solution features high availability since it can be applied to any device capable of speech recognition, and it is equipped with AI technology that analyzes the cognitive abilities of the subject, immediately providing the results. Thanks to these advantages, the testers can periodically check their cognitive health as if using a personal vital measurement device for long-term tracking and management.


PRENEU Presents its New Drone Ruepel in CES 2023

In this exhibition, PRENEU showcased its drone model Ruepel, which features excellent portability and long flight capability. The helicopter-type drone is basically a 7-foot-long helicopter with an assembly design. This makes it convenient to store the device in a portable case and operate it anywhere and anytime.

While commercial drones with similar sizes and specifications typically fly about 60 minutes, PRENEU's Ruepel can hover for up to 90 minutes. It can also work even in adverse weather conditions and features optimized performance for patrolling, whether it be over the mountains or the sea.

Meanwhile, the world's largest technology fair CES is an exhibition that provides a comprehensive view of global consumer electronics industry trends in one place. It is held annually in Las Vegas in January by the Consumer Technology Association (CTA). Aving News has annually reported on CES news for the world for 17 consecutive years since 2006, hosting the Best of CES, which selects the best innovative products and technologies, and the Best of Made in Korea, which chooses the most innovative businesses in South Korea. In addition, the media has delivered breaking news about CES through AVING LIVE.

The K-Startup Joint Pavilion is jointly attended by Korea Institute of Startup & Entrepreneurship Development, Seoul Business Agency, and Seoul Digital Foundation while 51 Korean innovators participate to tap into the U.S. market and discover global partners. In addition, CES 2023 university student supporters selected from Kyung Hee, Kookmin, Sogang, and Chung-Ang Universities are matched based on their specialties and the participating businesses' industry fields.

* Special coverage by Joseph Choe, Kidai Kim, Dongkwan Kim, Mokkyung Lee, Sangun Choi, Joon Suh Lee, Yeawon Choi, Jinnsun Park, Seung Hyun Nam, and Min Seok Cha