We were given a Solidoodle Press to test and review and use to help autism too for a bit.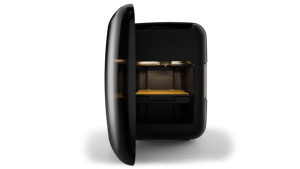 So far we are impressed by the design and its' compact size.
We like that it is a fully enclosed device.
According to Solidoodle:
The Solidoodle Press is a one-touch 3D printer designed to fit in your home. A consumer machine with no manual calibration required to get started. Just take it out of the box and start printing with our new SoliPrint software.
Product Comparison: Not sure what to buy? Check out our comparison chart to see which printer is right for you.
Filament: The Solidoodle Press has a proprietary spool. While you can use other filament, we recommend Solidoodle filament for your printer.
Warranty: All printers come with a limited warranty.
SoliCare: Extend your warranty coverage with SoliCare! For coverage above and beyond our standard warranty, SoliCare covers any defects or malfunctions in your new Solidoodle Press printer shipped within the United States for one year after it ships to you, whether due to manufacturing, shipping, normal wear and tear, or accident.
International Shipping: For international orders, customs fees, import taxes and VAT may apply and are not included in the shipping costs charged by Solidoodle. Please note that we cannot estimate your country's import taxes at this time. For an estimate we suggest using this Duty Calculator.
We have been able to print some small objects with the printer and are working on a review of it.
We appreciate receiving the printer and look forward to future testing and reviewing of it.
We would love to test and review other 3d printers and drones as well. In terms of the design of the printer, it is very appealing to look at and would fit in well in ones home or office.
There are several options as far as the software, you can use Soliprint, Solidoodle's proprietary software, Mattercontrol from Matterhackers, Simplify 3d or Repetier with a slicer like sl3cr.